News about Alexander Ehrlich
On this web page, you can find news and information about the Viennese owner-manager Alexander Ehrlich. The most recent news are situated on the top of the page, the oldest ones at the bottom.
News and press releases
News and press releases 2012
April 16, 2012: New partnerships in Poland and Italy. Thanks to new cooperations with charter bus companies from Poland and Italy, the City Tours Group can now propose bus rental service in various new cities, including Kraków, Katowice and Trento.
March 1st, 2012: German landline numbers. To facilitate its correspondance with costumers from Germany, the City Tours group can now be reached at the following German landline phone numbers: +49 30 46 73 17 75 (Berlin), +49 89 43 59 36 57 (Munich), +49 351 214 39 066 (Dresden).
January 1st, 2012: new branch office in Germany. In order to consolidate its service proposals in Germany, the City Tours group has now established a permanent branch office in Germany. The newly founded office is called "City Tours GmbH - Deutschland" and can be found at the address D-47053 Duisburg, Gravelottestraße 25. Its primary vocation is to co-ordinate all kinds of charter bus service in Germany.
News and press releases 2011
September 7, 2011: waltz classes in Vienna. Together with the Viennese dancing school Watzek and professional dance instructors from Vienna, Alexander Ehrlich now also offers Viennese waltz classes to tourist parties, and individual waltz instruction or private waltz classes to Viennese people.
August 25, 2011: reinforcement of the bus service in Vorarlberg. City Tours' bus rental network was also intensified in West Austria: modeling on the Austrian Federal States Burgenland and Carinthia, City Tours now also offers a comprehensive bus rental service all over Vorarlberg, thanks to more intensive co-operations with high-quality bus companies based in Vorarlberg. For more information regarding the new services, please visit the website "Vorarlberg Bus".
August 15, 2011: new bus charter service in Carinthia. City Tours extended its bus network thanks to new partnerships with several high-quality bus companies all around Carinthia. The website Carinthia Bus presents City Tours' brand new bus service all over Carinthia and provides precious information regarding the most famous sights in Carinthia.
July 27, 2011: subsidiary company in Poland. Tour operator City Tours took one more step to its internationalization. Another subsidiary company was created in Krakow (Poland) under the name "City Tours Polska sp. z o.o.". The new company's main task is the bus rental in Poland. Its headquarters (mainly representative) are at the following address: ul. Szpitalna 9/2, 31-024 Kraków - just behind the cathedral of Krakow.
July 14, 2011: subsidiary company in Italy. An Italian subsidiary company was created as a consequence to the constant geographical extension of City Tours' range of action. The new company is called "City Tours Italia S.r.l."; it is a company with limited liability and its headquarters are in Merano (Meran, in South Tyrol).
June 10, 2011: bus charter service in Trieste. Thanks to a solid partnership network with carefully-selected bus companies and incoming agencies in Trieste, City Tours offers bus rental in Trieste and the organization of sightseeing bus tours, bus transfers and coach trips in Trieste and its surroundings. This service is now available also in English.
June 4, 2011: taxi service in Tyrol. Together with a highly-reliable taxi operator in Innsbruck, City Tours now offers a taxi service with driver in Innsbruck and its surroundings - or for intercity transfers to and from Innsbruck.
Mai 24, 2011: bus rental in Poland and Ukraine. The 2012 UEFA European Football Championship is closing by - this is why City Tours is expanding its bus rental network to Poland and Ukraine. After carefully researching and preparing for some time, City Tours can already provide its customers with charter buses in any of the cities selected for Euro 2012. It is possible to organize bus transfers and sightseeing bus tours in Warsaw, Wroclaw, Poznan and Gdansk in Poland, and in Kiev, Lviv, Donetsk and Kharkiv, in Ukraine. The company City Tours is planning an extension of its bus charter service to further cities in Poland and in Ukraine.
May 12, 2011: restructuring of Watzek's piano-making website. Alexander Ehrlich entirely restructured and modernized the website of piano manufacturer Watzek using the newest Internet technologies. Watzek's workshop in Vienna is a piano shop for piano tuning and piano maintenance, but also for the manufacturing, sale and rental of antique pianos.
April 16, 2011: bus rental in Regensburg. City Tours' bus charter network is getting larger again: together with carefully-selected bus companies in Regensburg, Bavaria, City Tours now offers bus and minibus rental in Regensburg for bus transfers, sightseeing tours in Germany and motor coach trips all around Europe.
March 31, 2011: Salzburg Bus in English. Salzburg Bus is a bus rental offer for bus transfers, sightseeing bus tours and sightseeing excursions in the State of Salzburg, Austria, and motor coach trips from and to Salzburg.
March 23, 2011: Baden Taxi's website in English. On its website Baden Taxi, City Tours presents its taxi service offered in co-operation with a best-quality taxi company in Baden bei Wien, Lower Austria. This offer includes taxi rental with a driver for transfers, sightseeing tours in Baden bei Wien, taxi transportation all around Austria to and from Baden bei Wien, and intercity transfers. The website is now available also in English.
March 16, 2011: bus rental in the Ruhr. City Tours now offers - in co-operation with carefully-selected German bus companies - bus and motor coach service in the Ruhr, including bus rental for bus transfers, sightseeing tours and coach trips in Germany. These travels, transfers and excursions can start from Dortmund, Duisburg, Essen, Bochum, Gelsenkirchen, Hamm and Oberhausen.
News and press releases 2010
November 28, 2010: new bus partner in Ljubljana. Thanks to a co-operation with various charter bus companies from Slovenia, City Tours can now also offer bus rental in Ljubljana.
November 14, 2010: translator platform International Translators. Alexander Ehrlich has been co-operating with a team of independent translators from Europe and beyond for quite a while. The brand-new website International Translators does now present the professional translation service proposed by Alexander Ehrlich and his fellow translators to and from English, German and French as well as for various other language combinations.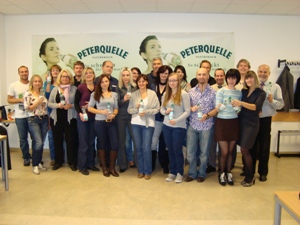 November 3rd, 2010: tour operator exam. To this day, the tour operator department of City Tours OG has been directed by Radosveta Ehrlich, the ex-wife of Alexander Ehrlich, alone. This was mainly due to the fact that Alexander had actually never passed the tour operator exam, which is an important prerequisite to legally propose travel packages in Austria. In order to acheive more flexibility for his company and wishing to participate more actively in the every day decisions, Alexander Ehrlich has participated in the preparation course for the tour operator exam organised by the federal economic chamber of Graz in October 2010 and successfully passed the tour operator exam on November 3rd, 2010.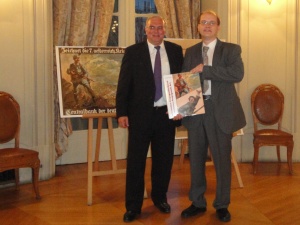 June 16, 2010: book presentation. From february to may 2010, Alexander Ehrlich translated the book "Information Propaganda Kunst" by the internationally acknowledged poster collectionner Erik Eybl from German into French. This very interesting book is sponsored by the Europ Assistance company and compares French and Austrian wall posters during World War One. It was presented to the public on June 16th at the French embassy in Vienna. The photo shows the translator Alexander Ehrlich together with the author Erik Eybl.
May 05, 2010: Maribor sightseeing tours. Thanks to a new partnership with a Slovenian bus company, City Tours can now propose bus transfers and sightseeing tours in Maribor, Slovenia. Learn more about the new service on the Maribor Bus website.
April 19, 2010: homecoming transfers for stranded passengers. Given the difficult situation in european airspace after the volcano eruption in Iceland and the subsequent closure of many airports, City Tours organizes bus transfers to and from Austria for individual passengers. Among others, City Tours buses picked up passengers in Madrid, Istanbul, London, Paris, Brussels, Rome, Thessaloniki and Venice to bring them back home to Austria and delivered passengers from Austria to important appointments and meetings throughout Europe.
March 20, 2010: website updating. Alexander Ehrlich's website appears in a brand new layout.
February 27, 2010: new bus company partner in Sicily. With Catania Bus it's another partner that joins the bus transfer network of City Tours.
January 23, 2010: new bus partner in Venice. The City Tours travel agency organizes from now on bus transfers from Venice.
---
Records release previous to 2010
Press releases and news about Alexander Ehrlich and its companies previous to 2010 were not indicated again in the new website layout of March 2010. It is planned to put the information online at a later time. However, considering the number of activities of Alexander Ehrlich and his team, it could take a while - thank you for your understanding.
---
If you want any more detailed information about Alexander Ehrlich, his projects, his companies, you can contact him at .